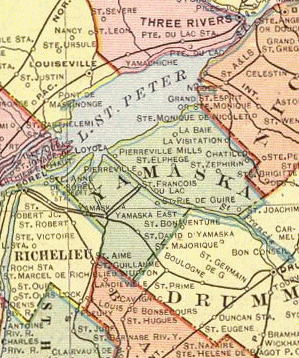 I am also researching the Precoor , Precures , Procure of the Niagara Peninsula , Kent and Elgin Counties in Ontario .

This a Joseph Precore who married Mary ? and lives in Caistor Lincoln County Ontario .

There is a John Pricore who married Margaret Kennedy in 1832 at Niagara and settled in Elgin County and is there in the 1851 census . John gives parents as Andre and Marie .

There is also a Joseph Pricoor with a family in 1851 at Bayham Ontario .




MISSING COUPLES
Joseph Precourt and Marguerite Auger married 1831 at Nicolet .
Jean Moise Precourt and Madeleine Bellemare married 1832 at Trois Rivieres .
Andre Precourt and Madeleine Corbin married 1787 at Cap de la Madeleine . He was a soldier - in 1801 at Amhesrtburg Ontario .